Sandbox Festival
Over the years, we built a culture that welcomes like-minded strangers from around the world that gather to witness genre bending lineups of international and local selectors on our different stages. While sharing the same backdrop of El Gouna's beach shore, each stage is carefully programmed to express its own character.
More at Sandbox
Aside from the music, Sandbox provides a holistic getaway experience with a wide range of food options to choose from, scheduled group yoga and wellness classes, and the chance to take a dip in the Red Sea waters that are just a few meters from our dancefloors.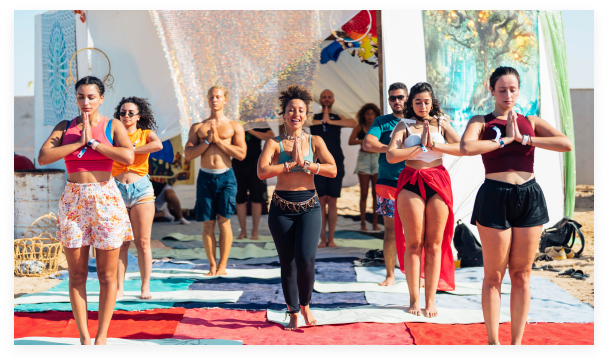 Our Home
---
El Gouna is gracefully positioned between the sandy shores of the Red Sea and the mountainous desert terrains of Hurghada, offering a seemingly endless list of things to do and places to see. Explore the Red Sea waters by boat with friends and a few drinks as you hop around the nearby islands. Or, do some kitesurfing, wakeboarding, underwater diving, snorkeling, fishing or sailing. Venture through Hurghada's landscapes on desert excursions with quad buggies and jeeps. Go rock climbing, hiking and have dinner with the bedouin hosts that will guide you through it all.
---
Check out things to do here.
---

Accommodation
Travel
Hurghada International Airport (HRG) is a 30-minute drive from El Gouna and welcomes international as well as domestic flights. Taxis and sixts to El Gouna are available on arrival at the airport.
---
If you can't find direct flights to HRG, we recommend transiting through Cairo International Airport (CAI) - Egypt's biggest airport. Click the link below to check Egyptair flights from your city.
---
El Gouna runs its own bus transport service that takes customers to and from hundreds of locations across Egypt in all the major cities.
---